Last updated on August 26th, 2023 at 10:55 am
What is the cost of hosting a website in South Africa?
In this article, we reveal the real numbers not mentioned anywhere else. See, creating a website is an investment.
It doesn't matter why or what you are building it for, at some point, you will have to dip into your pockets to sustain the growth of your site.
And now that online businesses are growing at an exponential rate, the costs and budgets make more sense than before.
Why?
Because the last thing you want is ending up closing doors or losing the site you have been working on for a very long time now just because you ran out of funds.
One thing to live by
If there is something you should abide by always on your online business journey is that;
Only spend on what is absolutely necessary.
Avoid dishing out cash just because you want to have that fancy plugin or that awesome theme. If it doesn't help put money in your pocket, it is not worth it, trust me.
Now, back to the cost of hosting a website in South Africa.
There are two things you need to know.
What you need to host a website in South Africa
To create a website, you need;
#1. A domain name
This is your website name. That special address people type into their browsers to access your site.
To get it, you need to spend some rand.
And depending on the type of the domain name, you could be spending between R50 and R200.
To put this in perspective, let's look at the top three domain name registrars in South Africa and how they price the top three domains (.com, .co.za, .africa)
| | | | | |
| --- | --- | --- | --- | --- |
| | .ORG.ZA | .COM | .CO.ZA | .AFRICA |
| REGISTERDOMAINS | R75 | R195 | R75 | R325 |
| TRUEHOST AFRICA | R70 | R175 | R70 | R320 |
| AFRIHOST | R97 | R220 | R197 | R349 |
Based on this table, we can calculate the average cost of domains in South Africa.
.ORG.ZA – costs R80.66 per year on average
.COM – will cost you R181.33 per year.
.CO.ZA – costs R107.33 per year on average
.AFRICA – R331.33 per year
You need to know that all of them are averages.
Something else to note is that;
Truehost Africa has one of the cheapest domains in the Country. As such, you could save a lot of money by registering with us.
#2. Web hosting package
Ideally, a website has files, be it articles, videos, audio, and of course images. All of these files need a place to live, that is where the web hosting account comes in.
Besides giving you space you need to store your site files, hosting in South Africa also gives you access to resources to control your site.
For example;
Here at Truehost, all of our hosting accounts come with a cPanel dashboard. Think of it as the control room where you can manage your site.
With it, you can create emails, add new domains, edit core files, and even install new scripts like WordPress.
Cost of web hosting in South Africa
Just like we did with domains, we are going to compare what different hosting providers here in South Africa offer.
Considering most of these companies offer several hosting packages, we are going to look at the entry packages.
| | |
| --- | --- |
| DOMAINS.CO.ZA | R89 PER MONTH |
| TRUEHOST AFRICA | R35 PER MONTH |
| HOST AFRICA | R69 PER MONTH |
Doing an average, you can see that hosting in South Africa costs R69.33 per month, that is if you are going with starter packages.
Moment of truth
Based on what we have seen, the costs of domains and web hosting, and even calculating the averages, what is the cost of hosting a website in South Africa?
Assuming you are going with .CO.ZA domain with an average cost of R107.33 per year, you should expect to pay R901.29 per year on average to host your website.
The best hosting option for you
R901.29 per year may not seem a lot to you, but there is a way to save more.
Truehost is offering you the most affordable web hosting packages in South Africa, with a ton of features and resources to boost your business.
For example;
You get a free SSL certificate to secure your site against attacks. It also boosts your chances of ranking higher on search engines
One-click installer
Unlimited email accounts and subdomains
99.999% uptime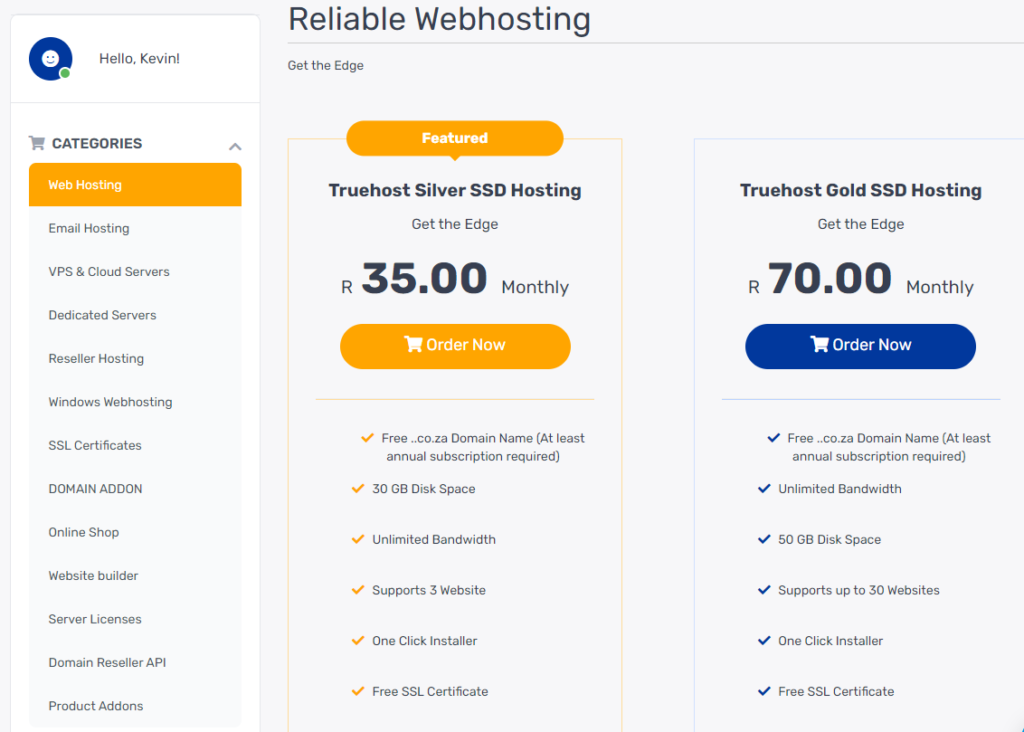 Check them here;